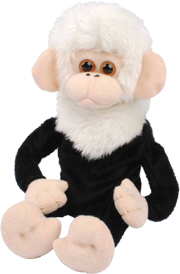 After a seven year odyssey Nick Donaldson's "
Cheeky Monkey
" has been reborn as the robotic toy "Dave the Funky Monkey". That adorable little shoulder buddy who has captured the hearts of Nick's friends and family has now spread his hilarity worldwide as 'Dave'. And, thanks to the innovative mechanism Nick desgned that uses only two motors to bring him to life, he is inexpensive and accessible to all!
Dave represents a new class of interactive toys, wearable social robotics. The real fun of the monkey is that not only can you play with the monkey, you can also use it as a puppet to interact with other people and that never gets old! Nick should know, he's been to many parties, weddings and other social events with the monkey on his shoulder and has always got to meet everyone at the party...
Literally every time I have worn the original Cheeky Monkey out in public I have been mobbed with people loving his cute character and asking where they could get one. This made me realize that he would make a great toy and had a very wide appeal. I knew the four motors used in the original would be too expensive as a toy so I designed two cam mechanisms, one to run both arms and one to run both head nod and head shake. The result is an inexpensive and highly animated robotic toy that is fun for young and old!
Dave has launched to a huge reaction, being tipped as the top Christmas toy for 2010 by a number of sources inculding Hamleys. and is alledgedly causing some panic buying... CNET love him, he seems to be developing quite the following and he's been featured on The BBC. Even the Daily Telegraph is predicting he'll sell out!
Dave in the Media:
There is a great new website at www.davemonkey.com where you can play with Dave online using his remore control via a flash animation. Fun!
Buy Dave or Charlie!
There is a new version called 'Charlie the Capuchin Monkey' available only at Toys'R'Us in the US. He is basically the same, only with brown fur and a new sneezing motion.
Brookstone now also has a version of Dave, although this version does NOT come with the shoulder strap.
You can purchase a 'Dave the Funky Monkey' or 'Charlie the Capuchin Monkey' toy at a store near you, or shop online:
Click on the thumbnails below for video: