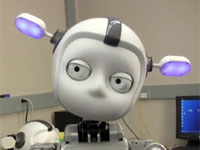 Over the summer of 2009 I got the opportunity to work with the talented folks at
Meka Robotics
in San Francisco. They have built an incredibly expressive humanoid robot called
Simon
which is installed at Georgia Tech. Simon needed a new head and they asked me to help them with the mechanical design. I spent several months working with them to create a new head design leveraging their extensive experience building robotic heads including the classic
Domo
at MIT. The finished head has thirteen degrees of freedom (DOF) including independently moving eyes and eyelids, movable ears and a 5 DOF neck that replicates a human's range of motion.
The head mechanism is enclosed with elegant 3D-printed shells designed by Carla Diana that give the robot a very approachable and friendly appearance.
The Meka Head is designed to convey subtle non-verbal cues via lifelike head motions, eye contact and blinking or winking. It was recently featured in the New York Times in an article highlighting the relationship between children and robots in the 21st century ("Students, Meet Your New Teacher, Mr. Robot"). There is a very interesting video associated with the article with some great footage of Simon at 1:19.
Click on the thumbnails below for video: