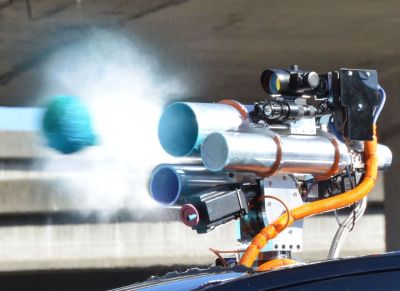 In 2010 I was approached by Bot 'N' Dolly, a video production company based in San Francisco specializing in using industrial robotic arms and other kinematic high-tech to produce videos. They wanted to outfit a Chevy Sonic with a variety of robotic devices to enable a graffiti artist,
Jeff Soto
, to paint a huge art piece on a wall in Oakland using the car. The piece was part of the Chevy 'Let's Do This' campaign for the Sonic.
The car was to be outfitted with a paint sprayer, a robotic paintball cannon and a small industrial robotic arm for detail work. My task was to design and build a remotely aimable, pneumatically fired multi-barrel robotic paint cannon. With the help of Justin Gray of Graywrx Fabrication and the talented folks at Bot&Dolly we gutted and outfitted the Chevy Sonic with robots and shot an amazing short film.