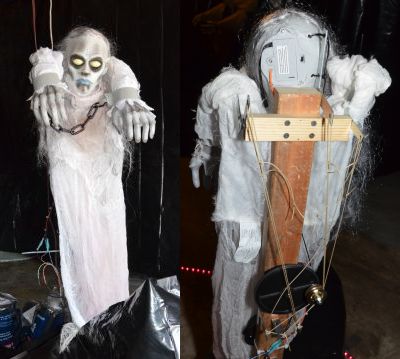 The monsters are set up in my garage in a labyrinth of black plastic sheeting so only one monster is visible at a time. The kids run through with guns in the dark, and each monster comes to life with lights, sounds and movement. The kids have to 'kill' the monster with their IR guns whereupon it stops moving and the next monster comes to life...
I built a very simple mechanism using a single motor, mending brackets and string to animate the inanimate props so that all the monsters move when activated. The whole mechanism including the motor only cost $15 so I was able to animate a lot of monsters...
The first year I had 7 monsters operating, including my giant Halloween Spider and The Mummy, and I am planning on adding at least three more for the next year. Watch this space!